Was your New Year's resolution for 2019 to keep your blog updated? You wouldn't be the only nail professional looking at a blank 'add new post' section of your website and not having a clue what to actually write about. We all have writer's block, but it' even worse when writing isn't your 'thing'.
To help you with a few ideas, I've scoured the internet for what's cool and trending in nails at the moment, and searched out those key questions that people are asking about nails. You can thank me later.
King Crimson – 2019 colour trends
Red is super hot this season. Fashion experts, influencers and those lucky people who got invites for the September 2018 fashion shows all agree that if you want to be in with the fash-pack this season, red is far from dead. You may only get that reference if you were alive in the eighties but as I was, it's good for me.

So, how do you make the most of the trend? You can take photos of all the red hued nails that you've worked on and pop them into a collage using software like Canva. Add the brand name and shade to each one. Tell your clients that red is the top tip for nails in 2019, and list the shades you have in salon.
It's great to get creative with this one, think along the lines of OPI and other nail brands and how they market their latest colours. For example; OPI 'Ginger's Revenge' is a deep red polish. Their strap line is 'The tyrant of the Fourth Realm will have you seeing red' – what could you say about the colour yourself? What does it make you think of?
What is poly gel? A nail professional explains
First there was gel extensions, then gel polish and now poly gel. Of course people are confused. If poly gels are something you offer, take the time to write a guide for your clients so that they can choose the poly gels (another hot tip for 2019 and set to rival gel polish in popularity).
What have your clients asked you about poly gel? Think about what you'd want to know if you were considering it – so how long does it last, how does it work, can it harm your nails, is it available in different colours, how thick is it when it's on, does it need curing like gel polish, how is it removed?
Nail Art FAQ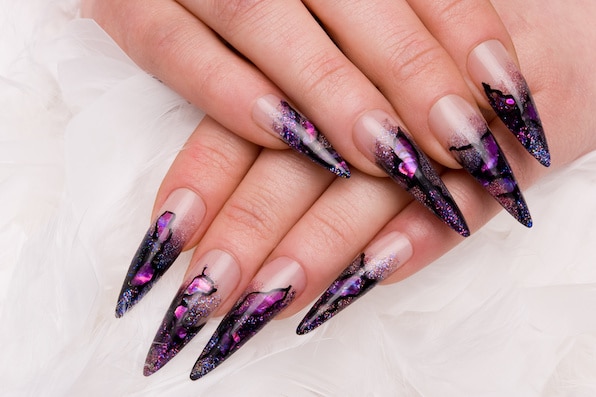 People are asking questions that you might think are obvious but they aren't to the people typing them into Google. One of the top questions is, "can nail art be done on shellac?" or variations on the question. As a nail professional, you know the answers but your customers might think it's a daft question and put off those Mary Poppins themed nails because they simply don't know what they entail.
Customers want to know how long nail art lasts for, if shellac is suitable for nail art, whether they need to have nail extensions, and how they are removed. Tell people what they need to know and they'll feel less awkward about coming in and asking for the fab nail art they really want. You're the nail professional, make people feel at home with you even if they have never met you. Show your expertise. People buy from people so let your knowledge and personality show through.
Blog writing tips
To write a good blog, include questions too. Use them on social media to get people talking and asking you even MORE questions. So for example, if you decide to write about red being the in shade for 2019, you could ask what people prefer from a range of three different shades. Ask if they dare to wear striking red, would they prefer it with glitter, or even what they would name a shade of red you have in salon.

Ask people if they prefer gel, acrylic, poly or gel polish. Would they try poly, and if not, what puts them off?
Try asking people for their ideas about the perfect nail art. What have they always fancied trying? Are they crystals or glitter lovers, do they like the idea of themed nail art? These three blog ideas can spark off discussions, polls, images and even competitions with a little imagination.
Go for it in 2019 and get creative with your blog and social media.